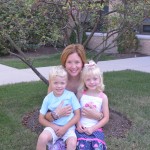 Nicole M. Mackinnon, M.S. CCC/SLP-L
Speech Language Pathologist/AAC Specialist
Credentials
• Master of Science in Speech and Language Pathology, University of Wisconsin-Stevens Point
• Holds of Certificate of Clinical Competence from the American Speech Language Hearing Association
• Holds an Illinois State License in Speech Language Pathology
• Holds a Type 73 Teaching Certificate in the State of Illinois
• Certified to teach the Hanen Parent Program: It Takes Two to Talk
• Extensive study in the area of Augmentative Alternative Communication
• Given numerous trainings in the areas of Augmentative Alternative Communication and communication skills in children with autism
Nicole MacKinnon received her Master of Science degree in Speech and Language Pathology from the University of Wisconsin-Stevens Point in May of 2002. Nicole has been a practicing speech and language pathologist in a variety of settings including private practice, in home, and schools. Nicole believes language intervention should be targeted within meaningful and motivating contexts that are individualized to the patients she works with. Nicole believes that the family is an integral part of any therapy program. She specializes in working with children with complex communication needs. Her areas of interest and expertise include augmentative alternative communication, autism spectrum disorder, apraxia of speech, and Rett Syndrome. Nicole teams on a daily basis with occupational therapists, physical therapists, social workers, psychologists, assistive technology specialists, educators, and parents.
When she is not working, Nicole enjoys spending time and making memories with her 4 year old twins and husband.